Working from home has been on the rise in the last 2 decades. The freelance culture has been a driver of this along with the ever increasing desire to control the Work-Life Balance. In fact a recent article discusses the flip of the Work-Life Balance to the Life-Work Balance, truly a sign the people are desiring and obtaining more control over their life and how work fits into it. With the ever increasing popularity of the home office we thought it prudent to discuss the work from home essentials list. It's pretty short but if you get these 3 issues right the rest of the office can flow easily. Since the beginning of the pandemic in 2020 there has been a lot of discussion on where the office was going, is it the end of an era and what was going to happen once the pandemic was over. We are well into the 18h month of event and I think the only thing that is for certain is that nothing is for certain.
The Future Belongs To?
Depending on who you talk with the office is either a thing of the past or it will get stronger in the future. Regardless of what happens there we are going to be looking at a large contingent of the population that will be conducting some or all of their work from home. This realization means that you will need to spend some time setting up a "Good" work from home office. We are going to discuss 3 key work from home essentials in this post. These don't come from a group session sitting around the zoom meeting and discussing what each person thinks is an essential. These come from someone that has been in the work from home for the past 22 years, so been there done that. Having been in the office furniture industry this entire time certainly gives me an advantage but the set up has been evolving for those 22 years and yours will too. Our discussion today is going to cover the essentials and the nice to haves. The aesthetics and design of your office are another topic as they are not an essential element but one that can be cultivated over time.
Essential Home Office Elements
These are (3) three work from home essentials to any home office:
The space – the more dedicated the better
Your chair – satisfying your butt is a critical issue
The desk – it does not have to be fancy
Number One – The Space
The more permanent the area can be the better. In terms of size think about the size of your cubicle or office at work. The standard corporate cube has over the years dropped to a small 6′ x 6′ space. This can be workable in a cube environment where you have aisles and other cubes that create a space and tall ceilings to allow for a spacious feel even though it is a small footprint. But, when you create a room that is 6′ x 6′ with walls and maybe a door it is smaller than a prison cell and you will feel it as well. Even moving to 8′ x 8′ is a big leap in the footprint you will notice it as you are working. So bottom line, carve out a large a space as you can without pissing off the other occupants or family members. While it is ideal to have a dedicate space that you can get up and leave, a multipurpose space can also work such as a dining room or family room. When these rooms are used our suggestion will be to have temporary dividers that you can use to outline the space. For those old enough to remember WKRP in Cincinnati (tv show) this is a Less Nessman move to declare your office space. While Pintrest, Facebook and Instagram would have you believe that a closet can be a workable office, let's get real. A super small space might be ok for a few minutes work it is hard to imagine being comfortable work for a long time (hours) in this space. We will continue the layout of the office in our next edition. This will include more of the details of what is good to have for your setup.
This makes use of available space, but can't be comfortable all day.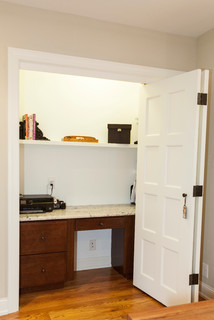 Photo by Rudloff Custom Builders – Search home office design ideas[houzz=https://www.houzz.com/photos/bold-statements-contemporary-home-office-san-francisco-phvw-vp~5614307]
This office if very elegant, and the desk chair fits the decor, but it is not a practical chair for long hour of work.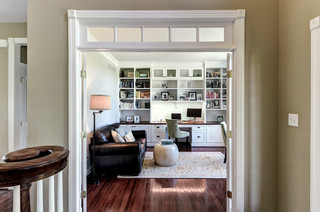 Chairs like the AIS Natick are much better options for a working office. And you don't have to break the bank on spending.
Number Two – Your Chair
The old proverb says "The mind can absorb only what the butt can endure." I think it was Confucius or one of his contemporaries. Your chair is probably the most critical item and if you are spending money this is what to concentrate the most on. Major companies will spend $800 – $1200 per chair for one of the top of the line Herman Miller, Steelcase, Haworth or Knoll chairs. If your budget allows for that great, but you don't have to spend anywhere near that sum to get a good adjustable chair. But we also recommend that the $59 big box store or Amazon chair is not usually a good spend. Generally in the chair market you get what you pay for. If you spend $59 you will get a very basic function chair that will be made with cheaper materials and will break down quicker. These lower cost chairs tend to not have great support either. Remember this is going to be home for your butt for hours and hours each day. Get the VERY BEST CHAIR YOU CAN AFFORD. Features that you want your chair to have include:
Seat height adjustment
Back height or lumbar adjustment
Tilting is a nice feature
Seat swivel
Casters (no you don't want a 4 legged chair)
Adjustable arms

Best to have height adjustments
Better to have depth adjustment

Seat depth adjustment is a good feature
In your searching don't rule out the used office furniture dealers. While we have almost exclusively sold new at our dealership there can be some good values to be had in these locations. But give up the idea you will find a "diamond in the rough". These chairs are generally picked over and used. But, they may have been a decent chair in their prime so there could be a few years left in their use for a much lower price than a new one.
The third component – Your Desk
You have likely been inundated with ideas on what your desk should be. While a good desk or table is a nice to have item, when you're starting out a flat surface on sawhorses at the right height makes a fine desk. Don't splurge on your desk at the expense of a good chair, you'll thank us later for this advice. The proper height for your surface is 28″ – 30″. This has been the standard for years. But as this is your new work space it can be adjusted some depending on how you are building this. When you are sitting at your desk you want to be able to place your feet flat on the floor. If you are of a shorter height you may need to have the desk around 26″-28″. This is not a "standard" commercial height but if you're building this then anything goes. If you are over 6'6″ you might need something taller than 30″ to be comfortable. We'll discuss ways to build your desk in a future post – look out for this soon. The size for your desk is important. We first need to take an inventory of everything you are going to have on this surface. Items such as:
Laptop (very common now)
Separate keyboard
Mouse
Extra monitor(s) – we recommend 2 externals
Phone
iPad / Tablet
Lighting
Printer / Scanner / Fax (I know right? who has one of these?)
Notepad / Planner / Binder
Work papers – I know this is a foreign concept to some of you younger people, but lots of older people need the paper!
Whatever you see as essential to your work and you want it readily at hand. So how much room does this take up? Probably more than you think. Too many "cute" desks show a very small space (48″ x 24″ or smaller) as a work from home desk. We tend to laugh at this because of how little equipment you can place on the surface. While 24″ is an ok depth (provided you have some accessories, 48″wide is really not enough space to make this work. Our recommendation is at least 60″ wide and wider or an "L" shaped configuration. But you have to go with the space available, just make sure you max it out. The best plan is to get everything together and place it as you want to work with it to see how much room you really need to be comfortable. The last thing you want to do during the day is to move everything around to perform new tasks, unless it is unavoidable.
Beautiful mid-century piece, but it is too shallow to actually sit at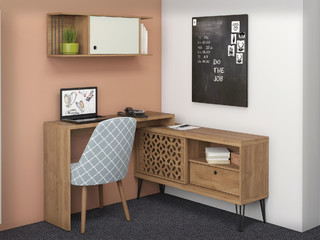 Photo by 7even USA Group, LLC – Search home office design ideas
Examples of Home Offices
This office is an example of a flooring method for organizing papers. Filing cabinets or more desk space might be useful.
This office uses very little paper but has a lot of equipment within reach of the occupant.

In a future post we will discuss the "nice to have" accessories that can really help make your space hum.Till next time.